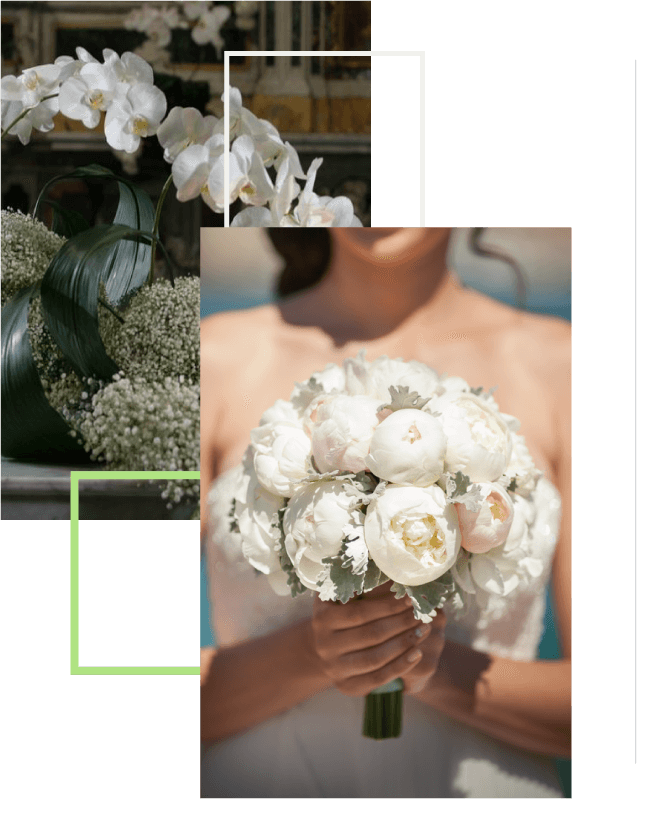 WEDDINGS
Weddings: It's the little details that make something great
Your long-awaited and dreamed-of wedding day deserves meticulous attention paid to every detail. Your personality, your clothes, the style of the church and the location, your hair, and so on, all contribute to the floral choreography choices, ensuring that the day remains in your hearts, and in the hearts of all the people around you, forever, making the moment truly unique.
We can help express your personality through the choice of each flower support the style of the church, give your creative side free rein, conjure the simplicity of a field of flowers… and so much more.

CELEBRATIONS
For the most important ceremony of your life together as a couple, our aim is to decorate the Church or the Town Hall where the wedding ceremony takes place in the most fitting way possible. Everything needs to be ready for the appointed time, when the priest or the Civil State Official, witnesses, spouses and guests, get ready for the momentous occasion.
RECEPTION
Only the best is good enough for your wedding reception. Whether you have chosen a villa, a historical residence, a restaurant, a hotel or a farmhouse, now is the time to decide together how best to beautify your location and make it really stand out. Together we can create the perfect atmosphere for celebrating with friends and relatives, dancing and dining, accompanied by fragrant aromas.
WEDDING BOUQUET
The original weddings bouquet were traditionally composed of aromatic herbs, such as garlic and thyme, to ward off evil spirits. Over time the herbs have disappeared, and have now been completely replaced by flowers, such as the classic orange blossom. The bouquet would traditionally have been offered as a gift to the gods. Used as a secret source of communication, the bride can send a message to her groom through the choice of certain types of flowers, even before they have embarked upon the new intimacy bestowed by their marriage.